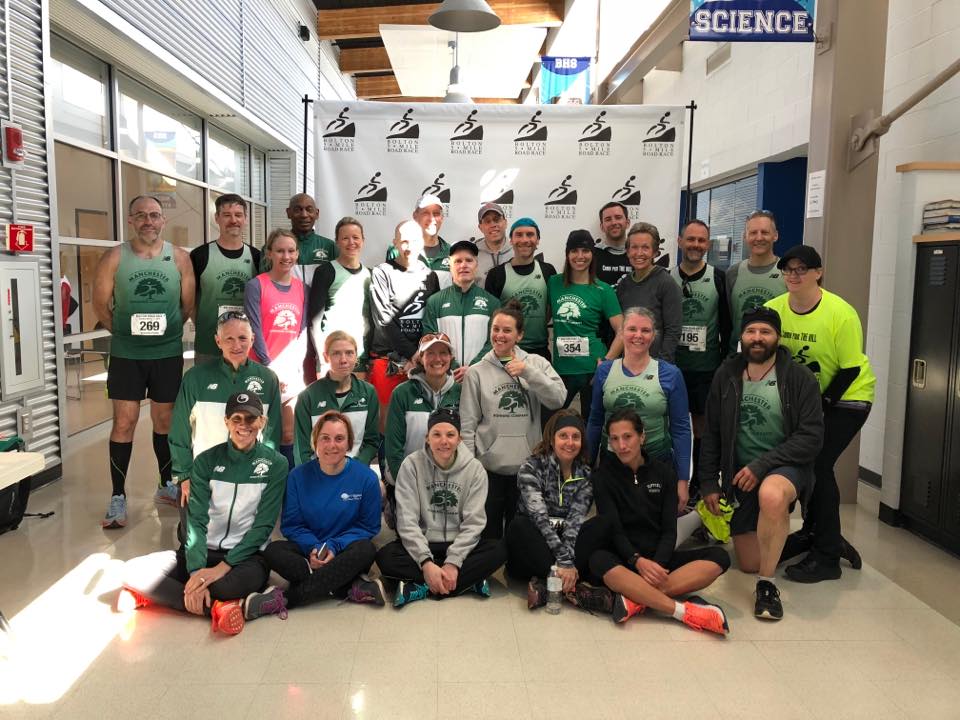 2018 has been very kind to the Manchester Running Company club team through two-and-a-half months with national records, team records, and victories abound. 
Aidan Puffer continues to wow the country with his speed as he set a national indoor record at the USATF Hershey Indoor Games in early March by running a 9:11.48 bettering the previous record by over 10 seconds. Aidan was joined at the National meet by his brother and sister and teammate Sean Barkasy who all set indoor personal records as well. 
Tyler Lyon continues to see remarkable improvement, now taking nearly 30 minutes off his marathon time in the last year with a team-record 2:31:33 clocking at the Newport News One City Marathon on March 4th. Tyler is now gearing up for his first Boston Marathon in April where he'll try to crack the 2:30 mark. 
John Busque has been having an incredible season on the indoor track as he also set a team record in the 5k at the Boston University Valentine Invite on February 10th with a 14:14 showing. Busque has carried the momentum into March with a victory on St. Patrick's Day at the prestigious Holyoke St. Patrick's Day Road Race. He covered the 10k distance in 30:37. 
Proving age is no factor, Marc Robaczynski set a pair of MRC masters records in 2018 already with a 5k in New Haven of 16:14 followed by a 27:30 showing at the Bolton Road Race a week later on March 11th. 
The MRC Women have been showing it's the team that matters most, opening up the USATF-CT Road Racing Grand Prix with masters and grandmasters victories at both the PLR 5k on March 4th and the Bolton Road Race on March 11th. The women's open team for MRC also took the win in Bolton after a 3rd place showing in New Haven. 
The MRC men also swept the open, masters and grand masters in Bolton after taking 3rd in the open at New Haven, 2nd in masters and 4th in grand masters. 
The sweep of six divisions in Bolton was a first for the MRC team at a USATF-CT Grand Prix race and the first time that has happened for any team in the recent history of USATF-CT. 
The club continues to grow with over 300 members and more are always welcome to join us!