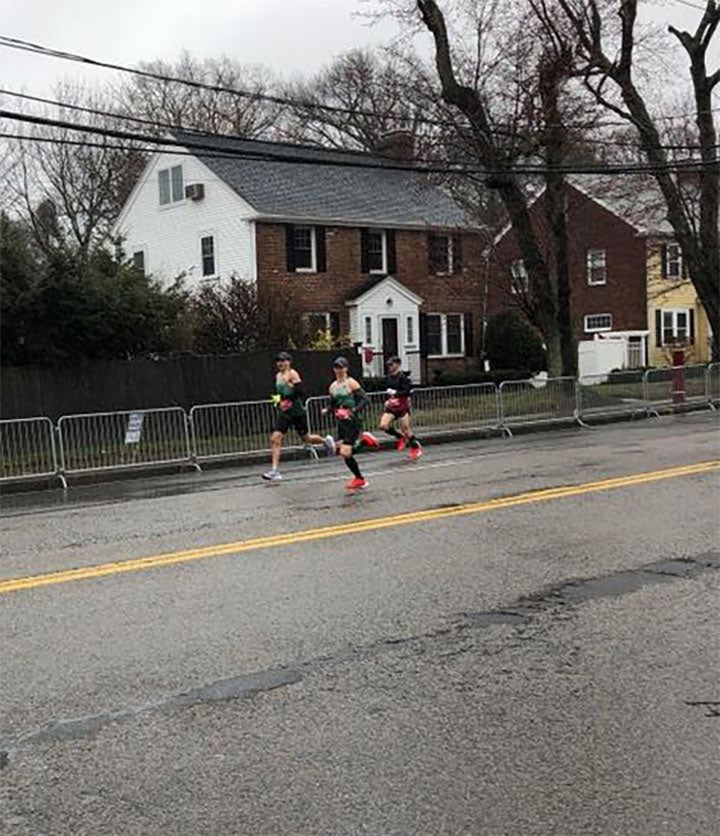 In a remarkable weekend for the Manchester Running Company club members another world record was set and marathoners defied the odds to win the Boston Marathon Team Title. 
The scoring trio of Morgan Kennedy (2:34), Tyler Lyon (2:35) and Ryan Palmison (2:37) ran incredible races at the 2018 Boston Marathon, all running patient, and even splits to claim MRC's first crown at the worlds most famous marathon. Scoring is done by the cumulative time of a team's top three runners. Despite not having any elite entries, all the MRC men stayed in the race, on task and hit impressive times in miserable running conditions - a fierce headwind, driving rain, and unseasonably cold temperatures. 
The great performances didn't stop with the top three, Scott Bushey was just behind in 2:44, followed by Shizhong Yang (2:46), Adam Gootnick and Ryan Lerner (both 2:49). 
The Masters men and women's teams each finished in the top 25 of their respective divisions and despite not having a complete team, Tracy Deeter (3:10) and Tricky Tanksley (3:26) put up fine efforts for the Open women's team.
Complete MRC Results
Morgan Kennedy - 2:34:07
Tyler Lyon - 2:35:38
Ryan Palmison - 2:37:30
Scott Bushey - 2:44:40
Shizhong Yang - 2:46:23
Adam Gootnick - 2:49:01
Ryan Lerner - 2:49:42
Jesse Wanzer - 2:53:29
Ben Joyce - 2:54:46
Jacob Griffith Gardner - 3:01:38
Brian Nelson - 3:04:08
Kevin Vallez - 3:08:08
Tracy Deeter - 3:10:56
Adam Bulewich - 3:11:16
Suresh Jatti - 3:12:19
Darrin Fodor - 3:12:47
Tricky Tanksley - 3:26:10
Cheryl Sunshine - 3:34:41
Melissa Emmerich - 3:43:19
Karen Houle - 3:50:07
David Guzik - 4:12:23
Puffer Continues to Shine
One of MRC's youth runners, Aidan Puffer broke his own world record for 13-year-olds with a ridiculous 15:47 clocking at the BAA 5k on Saturday, April 14th in more favorable, sunny and dry conditions.