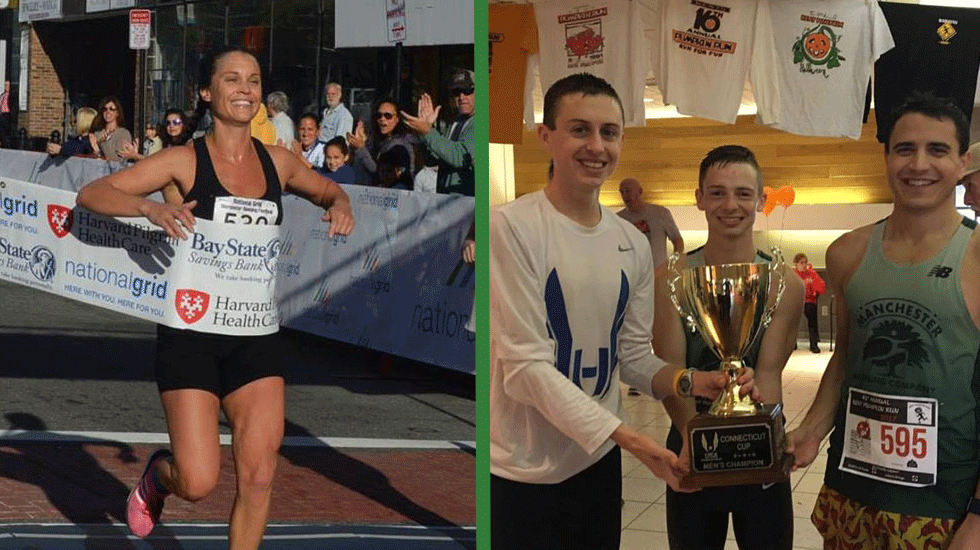 The Manchester Running Company club runners had another fine week highlighted by Caitlin Roston winning the women's division of the half marathon at the National Grid Worcester Running Festival on Saturday, October 22nd. The MRC men's team also claimed a victory at the Kent Pumpkin Run and took home the team trophy as the USATF-CT Connecticut Cup Champions.
Roston was first across the line at the Worcester half marathon and was seventh overall in a time of 1:29:16. Her impressive 6:48 pace was good enough to outdistance her nearest competitor by just under two minutes.
The Connecticut Cup returned to the MRC men's team after a two-year hiatus and MRC becomes the first men's team to win the cup three times. The team was led by John Busque (2nd overall in 24:36) and followed by Morgan Kennedy (5th), Tyler Lyon (6th), Brett Stoeffler (9th) and Kevin Fryer. Team scoring consisted of the top four from each team.
MRC was once again all over the state and region, and for a complete recap take a look at the results below!
Carolyn St. Andre - 25:51 - PR!
Caitlin Roston - 
1:29:16
 - Women's Winner!
Spencer Lau - 
1:21:46
 - Winner!
Men's Team Champion!
John Busque - 24:36 - 2nd Overall
Morgan Kennendy - 26:53
Tyler Lyon - 27:58
Brett Stoeffler - 29:09
Kevin Freyer - 38:11
Melissa Stellato - 
17:44
 - Overall Winner!
Zach Stoddard - 
20:55
 - 3rd Overall
Rebecca Hall - 31:51
Kathy McDonald - 39:40
Shannon Kievman - 25:35 - 3rd Female
Nicole LeBlanc - 26:30
Greg Tutolo - 42:06 - 3rd Overall
Tori Cronin - 
18:33
 - Overall Winner!
Beth Matonek - 32:01
Kevin Ehrlich - 32:01