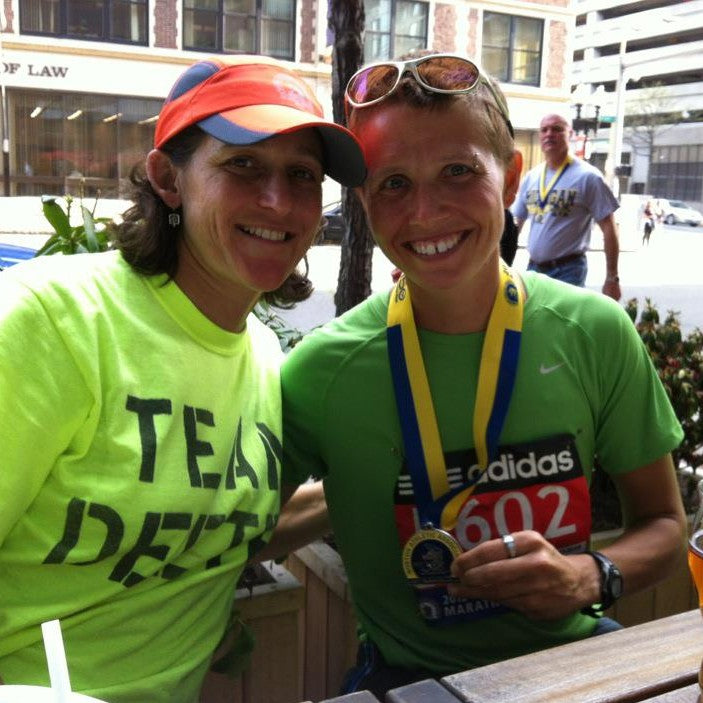 The spring marathon season was very kind to many a Manchester Running Company club runner, but especially kind to Tracy Deeter of Unionville and Briana Demers of Ashford as each came away with a win at their respective 26.2 mile adventures.
On Sunday, May 7th, Briana Demers, along with a handful of other MRC members (but this story isn't about them) took to the streets of Providence for the Providence Marathon. Coming off an already impressive spring where she ran many miles and was second at the Middletown Half in 1:24, Demers was in great shape for this race. With cool conditions perfect for racing she won in impressive fashion, running 1:30:10 for the first half and 1:28:17 for a finishing (clock) time of 2:58:29. She was the first woman across the line by 2:30 and was 26th overall in the race.
Not to be outdone, just one week after Demers was victorious, and coming just three weeks after a Boston Marathon in which she led the MRC squad to a 41st place team finish (of 64) in 3:05:36, Tracy Deeter took top honors at the Rhinebeck Valley Marathon in New York. Deeter was seventh overall in the race and cleared the rest of the women's field by nine minutes with a winning time of 3:12:10.