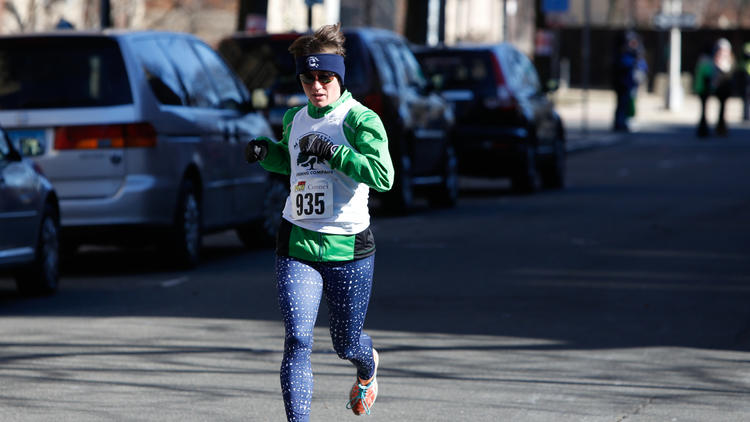 The Manchester Running Company club team earned a top-three showing in five different team divisions and six individuals finished among the top three of their age group as the club kicked off the 2017 USATF-CT Road Racing Grand Prix on Sunday, March 5th in New Haven. The Masters men took first, the Grand Masters men, open women and Masters women all took second, and the open men's team took third to kick off the season.
Individual Results
Team Results
Age Group Awards
In a brutally cold day for March, the MRC crew was excited to start the 2017 campaign, especially with a number of new members on the racing team. The ladies were led by a second-overall finish by Melissa Stellato in 18:03, she was followed by Brianna Demers who won her age group and ran her fastest in 3 years with an 18:48 clocking and making her MRC debut Stacy Mowry ran a PR of 18:53. Amy Heffernan was the fourth MRC lady across the line, and first Master's runner, in 21:09 and Laura Tignonsini closed out the scoring in 21:42. The open women's division was incredibly close as MRC was edged out by SoundRunner by just 26 seconds; third went to New Haven Road Runners. The open women's division also included Ariana Pike (21:31), Erin Keller in a personal best of 25:48, Diana Cohen (26:57) and Jessica Willis making her MRC debut in 29:26.
In the women's Masters division, Heffernan was followed by Sarah Ferrero (21:48) and Shelley Kay capped the scoring in 23:50. The Masters women were second behind Mohegan Striders and edged out Milford Road Runners by 39 seconds.
On the men's side, a reloaded Masters team of Brian Murray (17:00), Brett Stoeffler (17:25) and Kevin Vallez (17:44) took the only win of the day for MRC. The men faced the strongest competition of any division and out-dueled Mohegan Striders and SoundRunner by just over a minute. The Grandmasters men earned second place behind a strong race from Joe Hallisey (19:27), Tom Soisson (20:34) and Ken Johnson (21:53).
The open men's squad was led by Jake Gurzler who took 10th overall in 16:29 and was followed by Ben Joyce (16:44) and Jon Krell (16:57) who were both making their team racing debut for the club. Adam Gootnick (16:57) and Murray rounded out the scoring as the team used just a 31-second spread to earn third place. SoundRunner paced the men's open standings and Mohegan Striders were second.
Next up for the team is a busy April as the Finally Spring 5k on April 8th and Middletown Half on April 9th are both part of a USATF-CT series; the team will also compete at the Boston Marathon on April 17th.