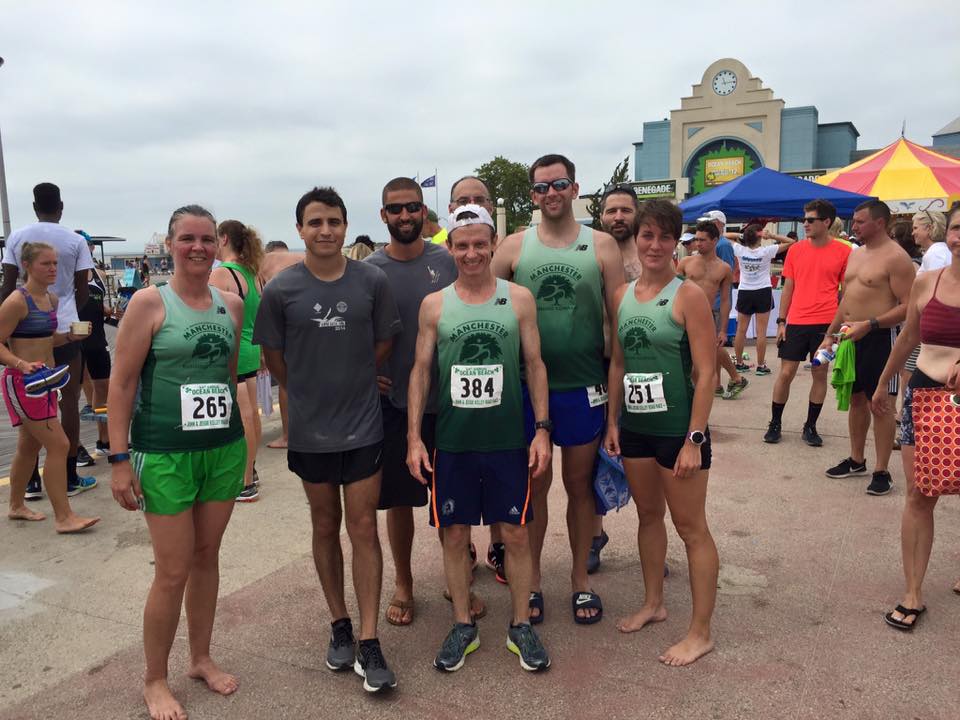 Despite tired legs from a summer full of racing, the Manchester Running Company club teams put together a very strong performance to take second place in the 2016 CT Cup at the John & Jessie Kelley Run in New London on Saturday (August 6th). The CT Cup is a coed competition based on times for the top three men and top three women from each USATF-CT team. The MRC team earned $300 for the second-place finish.
Tracy Deeter led the women's team and was the fourth woman overall in the field of 479 runners with an impressive time of 1:18:24 for the 11.6 mile course. Just behind Deeter was Briana Demers as the 6th overall woman in 1:21:49 and Melissa Stellato powered through the heat and humidity to finish as the third MRC female, 7th overall female, in 1:23:08. The top three ladies were followed by Nicky Leblanc (1:31:00), Melissa Emmerich (1:39:24), Shelly Kay (1:44:10), Amira Lerario (1:44:41), Beth Gemmell (2:08:02) and Jessica Willis (2:17:55).
On the men's side, Morgan Kennedy led the charge with a ninth-place overall finish in 1:08:42 while Adam Bulewich was just behind him in 11th, crossing the line in 1:10:48. Adam Gootnick closed out the scoring for the men's side by finishing 16th in 1:13:23. Suresh Jatti and Joe Hallisey were the fourth and fifth runners for MRC in 1:15:34 and 1:18:22, respectively. Helping out the top five men were Patrick Byrne, Matt Davis, David Fusfeld, Bob Gralton, Ito Pizzaro, Mitch Bielenda and Peter Briggeman for a fantastic MRC showing (they aren't all pictured, unfortunately).
The total time for the top three men and women was 7:36, just about 30 minutes back of first place SoundRunner Racing.