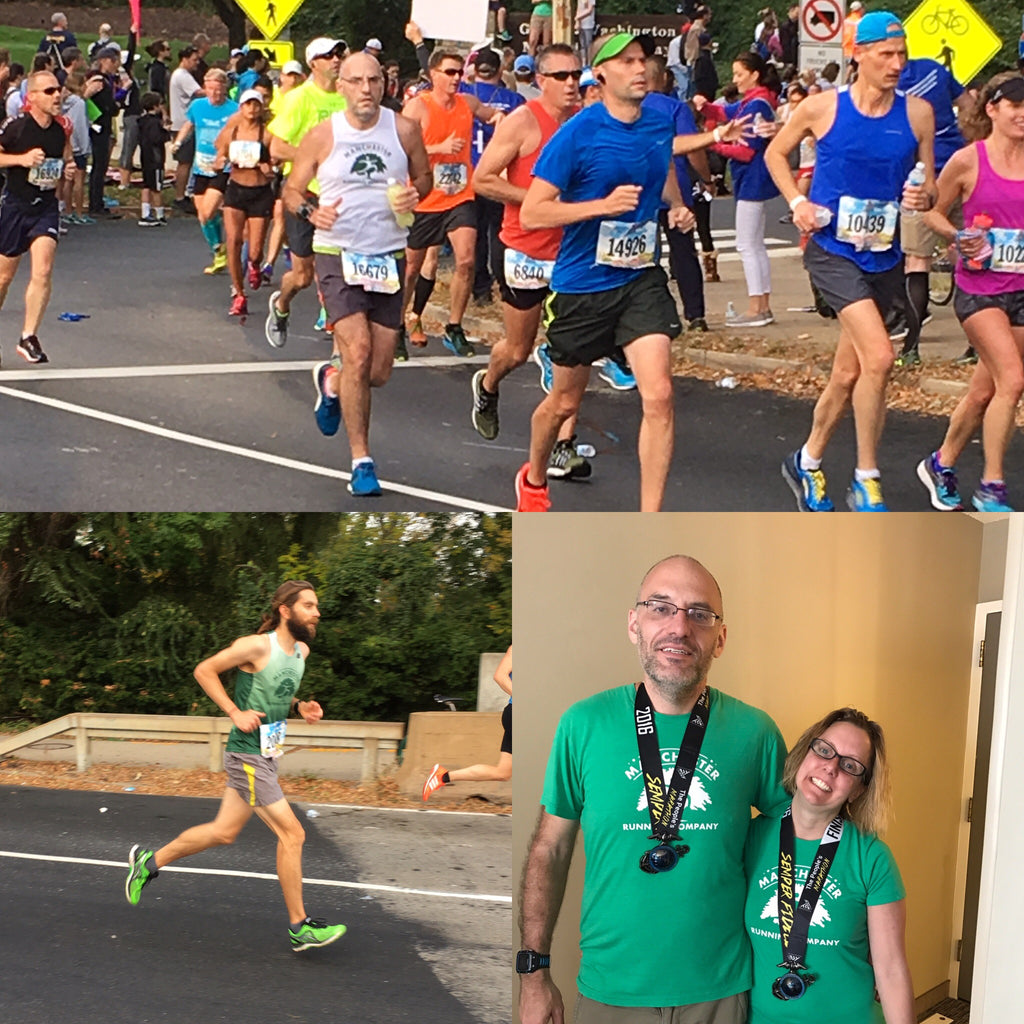 From the 5k to the 50-mile, the fall of 2016 has been kind to the Manchester Running Company club runners with 11 club records falling since late August. MRC runners have taken part in the worlds largest event (NYC Marathon) and some you may have never heard of, but have excelled and set personal bests across the board.
New Records
Since late August, the MRC record book has been re-written including:
Men's Masters 5k - Brian Murray (16:39 at the Race to Fill the Pantry)
Men's Masters 10k - Brian Murray (36:42 at the Old Wethersfield 10k); reclaimed by Adam Bulewich in 36:02 at the CT Women of Hope Run
Men's Masters 20k - Brian Murray and Kevin Vallez battled to 1:13:33 at the New Haven Road Race
Men's Masters Half Marathon - Adam Bulewich ran 1:16:59 in Hartford
Men's Masters Marathon - Kevin Vallez wowed us with a 2:48 in Hartford
Women's Masters 20k was lowered to 1:37 by Melissa Emmerich on Labor Day at the New Haven Road Race
Maggie Ferron set the MRC Women's 50k record in her debut with a time of 7:43 at Bimbler's Bluff Trail Race
Morgan Kennedy set records in the 50k (4:19) at Bimbler's Bluff and in the 20k in 1:08:24 in New Haven
Tim Goric broke the 50-Mile record in the Vermont 50 (8:18) in September
John Busque ran a ridiculous 14:50 at the East Windsor 5k in early November
Marathons
Fall running means big-time marathon season in the northeast and dozens of MRC runners took to the roads this year. Adam Gootnick set a personal record with a 2:52:40 clocking at the Wineglass Marathon in New York in September. We showcased numerous runners from Hartford and Chicago already, so we won't repeat that. Brian Nelson negative split the Marine Corps Marathon on October 30th in Washington DC with a 2:52:39 showing.  Dave Fusfeld ran 3:27 at Marine Corps while Mary Schubert was clocked in 5:22 and Jennifer Fusfeld came through in a hair of six hours. Eric Johnson broke the four-hour barrier at the Newport Marathon in early October and Matt Davis set a personal record with a 3:21 Bay State Marathon.
On the trails, Greg Tutolo covered the Nipmuck Trail Marathon in 4:14 while Hillary Lawrence and Mark McCarty ran 6:20. Scott Bar clocked a 3:56 Steamtown Marathon and Scott Puzzo ran 3:37 at the Cape Cod Marathon.
The New York City Marathon grabbed the attention of a handful of MRC adventurers led by Shizhong Yang's 2:48:45 with Ryan Miller just behind in 2:49 and Nick Ferron was 2:52. Suresh Jatti, in his 3rd marathon this year ran 3:05 and personal bests were had by Tricky Tanksley (3:15) and Melissa Emmerich in 3:35; Jessica Willis also crushed the marathon in 5:15 while raising funds for the Achilles Foundation.
Races continue well into the fall for the club, with nearly 100 MRC runners lining up for the Manchester Road Race. To join our club or find more details, click here!